Elnea Kingdom has eight possible initial states. The foundations of the country are the same, but the living citizens are different at the game's start. These initial states can be identified by their first ruling monarch.
The following pages summarize the state of each country's Y192 D3. These data do not include you, travelers, and the unborn children.
[!] We are looking for someone who will collect data.
[✔︎] Completed
Japanese version
Edit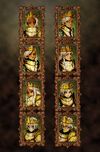 Distribution of paintings (interior items) was done as a memorial 2nd anniversary in the Japanese version. Whether or not similar distribution will be done in English version is unknown.