The Kingdom of Elnea has a wide variety of locations. These locations are split into three categories.
Map of Elnea Kingdom
Edit
The map is a detailed guide of all Places in the game, from Fishing spots to Dungeons.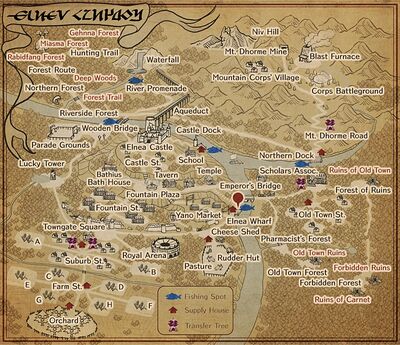 Fast Travel Locations
Edit
These are places to which you can fast travel to: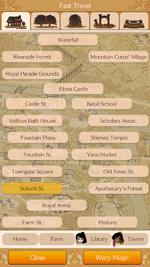 Your own home and farm, Wiala's Tavern, Miara's Library, and all of the Dungeons.
Waterfall

This is the place where parents and children can go together.
In the adjacent area [River Promenade], there is a fishing spot and entrance to Phomos Forest.

Riverside Forest
Mountain Corps' Village

Mt. Dhorme Mine Description: Mt. Dhorme Mine is just north of the Mountain Corps Village. It is a great place to collect ore and train against low level monsters. 
Objects of Interest: The mine contains several ore rocks which can be mined to collect Coal and Lucidium Stone. The Mountain Corps can also collect ore and gems for crafting from the rocks.

Click here for more information

Royal Parade Grounds
Elnea Castle
Castle St.
Natall School
Bathius Bath House
Scolars Assoc.
Fountain Plaza
Shiznee Temple

Weddings and various events will be held. The wedding reservation list is on the left desk.
Objects of Interest: Catacombs from the right staircase.

Fountain St.
Yano Market
Towngate Square
Old Town St.
Suburb St.
Apothecary's Forest
Royal Arena

A place where the Imperial Guardsman Tournament and Elnea Cup will be held. Some positions can practice matches.

Farm St.

From here you can go to Orchard or Farm C to H.

Pasture

Description: The Pasture is where you go to milk rudders (cattle)

Objects of Interest: Rudders, several bushes for harvesting.
Description: The Tavern is at the center of the Kingdom. It is the place where travelers rest and what they call home. It is also where all new characters begin their journey.
Objects of Interest: In the Tavern, you will find Wiala the Innkeeper, who will give you various quests. You can access the Food Shop by speaking to Wiala or going up to the bar.
Description: The Library provides information on the history and stories of Elnea Kingdom. A workspace for Scholars can be found in the basement. A dorm for the Master Scholar is located on the second floor.
Objects of Interest: Miara the Librarian gives quests. The Library is also where you can register to become a Scholar.
Forest
Mt. Dhorme
Old Town
Special

Forest Trail
Deep Woods
Rabidfang Forest
Gehnna Forest
Miasma Forest

Side Tunnel
Tunnel Remains
The Cave of No Return
Warlock/Demon Cave

Old Town Ruins
Ruins of Old Town
Ruins of Carnet
Forbidden Ruins

Bagwell Forest
Vorugo Forest
Hellfire Lair (NS)
Sunken Ruins (NS)
Click here for more information
Your Farm
Edit
On your farm, you may grow crops, but flowers cannot be grown there.
Click here for more information
Everybody needs a place to rest their heads, and there are plenty of places to do just that!
Click here for more information
Community content is available under
CC-BY-SA
unless otherwise noted.