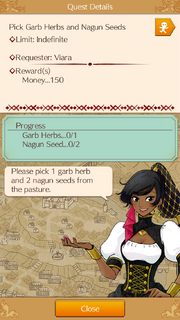 In Elnea Kingdom, there are a variety of different types of quests. Each quest comes with it's own special rewards. Some quests have a time limit, and some quests unlock new items for sale in the shops. Other quests are given by NPCs when you talk to them, and some quests are given to you automatically.
Tutorial quests allow your character to progress. Miara and Wiala both give miscellaneous quests that come with a variety of rewards. Commonly received are work points, bea and food etc.
Differences by Platform
Edit
On the Mobile Version, Quests may appear for certain Limited Events. Please view the events page for those quests.
On Nintendo Switch version, time is measured by in-game days (as opposed to real-world-time on Mobile), and therefore the Time Limits for quests operate differently. Until further notice, Yearly and Seasonal quests, which are exclusive time limit types to this version, will be filed in this wiki under the "Daily and Weekly" section, or otherwise sorted by their requester.
---
If you receive a quest not listed here, please add it by editing.
Community content is available under
CC-BY-SA
unless otherwise noted.