This article is currently a Work in Progress.
Please help the World Neverland Wiki by adding information or images to expand on the page's information
This page needs images!
Tailor Shop
Edit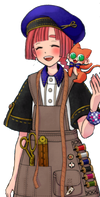 The "Tailor Shop" can be accessed from [Main screen] => [Lottery] or the store in Castle St. The Tailor Shop is a place where you can use coupons to buy costumes that range from a rarity of 1★ to 5★. There is also the chance of only getting Amber.
You can get Tailor coupons from the Paid Item Shop and Login Bonus. VIP coupons are also sometimes available as Login Bonuses. VIP coupons have a higher chance of giving rarer costumes.
Drop Rate
Edit
x1 or x5 Ticket
x10 Ticket
VIP Coupon
Amber……5%
★……30%
★★……25%
★★★……20%
★★★★……15%
★★★★★……5%
Amber……5%
★……20%
★★……25%
★★★……20%
★★★★……20%
★★★★★……10%
Amber……0%
★……30%
★★……25%
★★★……20%
★★★★……15%
★★★★★……10%
Please read Image Guidelines when uploading for the first time.
Gender-specific textures are not included in For Baby, For Equipment and, For Bagwell. So you only need to add a single image.
For Adult [ show / hide ]

Edit
For Child [ show / hide ]

Edit
For Baby [ show / hide ]

Edit
For Equipment [ show / hide ]

Edit
For Ihm [ show / hide ]

Edit
If you do not like the costume you were given, you can recycle it for Amber. Higher ranking costumes give you more Amber when sold. You can find the Recycle tab by going to Shop. It should be the 5th option. Right above Recycle is the Amber Trading Post, where you can use the Amber that you get from recycling your costumes.